We have had many successful rescues, most of which have now gone onto their new homes. Read some of the stories below!
Crinkle was handed over to us as her owner could no longer care for her.
She came in with awful feet, one of which had a deep abscess. Her teeth were sharp and she was skin and bone.
Crinkle's response to everything was to fight. She would go to bite and kick you which says a lot about the way humans have treated her in the past.
The stud where Crinkle was born found out that she had been handed in to us and were desperate to have her back.
Once we had treated all her physical issues, Crinkle returned to her first home where she never be alone again.
Sponsor Crinkle for as little as £5 per month to help towards her care.
Lavender is an 8 year old miniature shetland. She was unhandled when she came to us and it took us almost 6 hours on a freezing cold day in the middle of a field to get her loaded to bring home.
Lavender used to live with her best friend, Charlie. Unfortunately, Charlie past away and Lavender couldn't cope being on her own.
Lavender had not been mistreated but her needs had been neglected due to ignorance. She had no passport and had never been wormed or vaccinated. Her hooves were so overgrown that her they were beginning to curl - the farrier said they were the worst hooves he had seen in years.
Lavender has also got a sarcoid on her ear as well as another unknown growth within her ear that requires expensive surgery to remove.
This poor little pony has been through so much in such a short space of time.
Sponsor Lavender for as little as £5 per month to help towards her care.
Goldie is 25 years old mare who came in to us when her loan home could no longer care for her and her owner could not have her back. If we did not take her in then she would have been PTS.
Goldie was very underweight when she arrived, her feet were long and unbalanced and her teeth were horrendous. Her curly coat also indicated she has Cushing's disease. Goldie is on daily medication for her Cushing's and has two big feeds a day as well as access to constant forage to help put some weight on her.
Not only was her physical condition bad, her emotional and mental state were no better. Goldie was very disassociated when she first came to us. She had no life in her eyes anymore. We have put a lot of time into gaining Goldie's trust and slowly but surely she has perked up and got that spark back!
Sponsor Goldie for as little as £5 per month to help towards her care.
Sandy is 20 year old mare who came in to us when her loan home could no longer care for her and her owner could not have her back. If we did not take her in then she would have been PTS.
Sandy was very overweight when she arrived. Her feet were long and hot, she had a digital pulse, her teeth were appauling and her crest was rock hard. It turned out that Sandy had a bad case of laminitis and so was put on box rest and a strict diet of soaked hay and sugar-free feed in order to try and rectify the situation. Sandy was extremely well behaved during that time and entertained us all with her funny faces and cheeky personality.
Sandy is now on daily medication for her laminitis and has a strict diet which has already made a huge difference to her condition.
Sponsor Sandy for as little as £5 per month to help towards her care.
Trooper came in to us as sadly his owner had passed away. Trooper really was a trooper - he was blind in his right eye but he didn't let that stop him! Trooper found a lovely new home up in Scottland!
Unfortunately, we had the sad news that Trooper passed away in October 2020. Such a sweet pony who will be missed.
Annie was only with us for a short time. We managed to find her a new home really quickly - we aren't surprised really, she's gorgeous!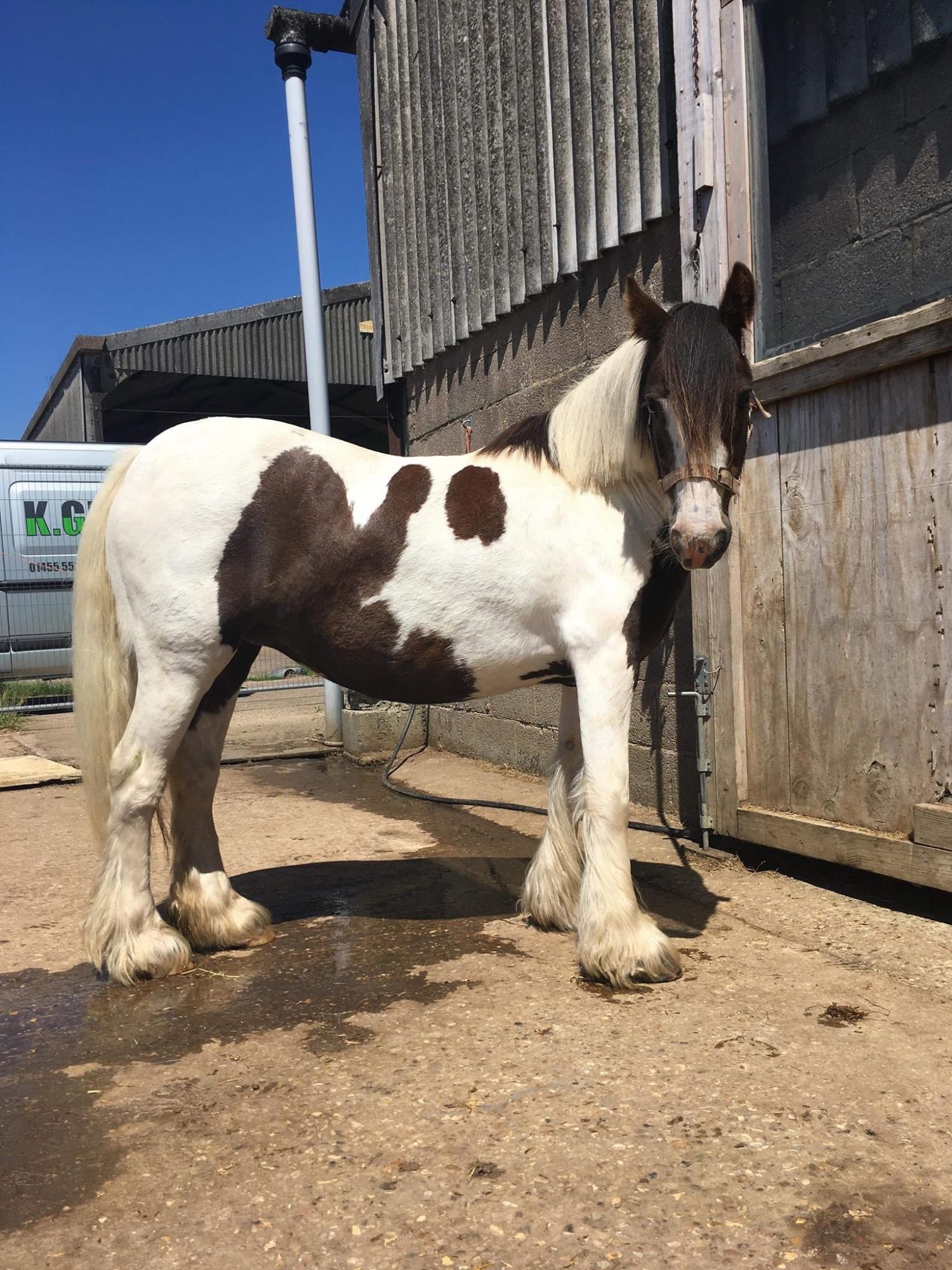 Honey was on her way to be slaughtered before she came in to us. She was so worm infested. Her legs and tail were caked in poo and mud when she arrived as a result. It took days to get them fully clean. After a lot of TLC, Honey made a full recovery and now has a lovely new home! Her new owner loves her so much that she has now purchased Honey! Another happy ending!
Our little feral pony. Another little one that came to us as a yearling with no trust in humans what so ever. It is terrible that this little soul had to endure the life he did before coming to Rescue Ranch UK.
Merlin has been our most challenging rescue, but he has also been the most rewarding. His journey from when he first arrived with us, bucking, rearing, biting and kicking when he came off the horse transporter, to an affectionagte little boy who loves a good scratch from his carers.
He still has a little way to go on his journey, but has come so far. Merlin loves nothing more than to help you poo pick his field. Well ... he like to think he is helping. He just knocks the wheel barrow over when he is using it for a scratching post.
Merlin has found his forever home with a lovely family - he has well and truly landed on his feet and they adore him!
Mia was our most emaciated rescue to date. Extremely thin, flea infested, worm ridden, overgrown feet and scared of her own shadow. She was in such a poor state and only given a 50/50 chance of survival from our vet.
It took 5 long months for this beauty to start putting on weight and begin to trust humans again. Mia never gave up and had a thirst for life throughout her recovery. Mia is now happily in the shetlands herd with her friends and absolutely loving life.
Sponsor Mia for as little as £5 per month to help towards her care.
Chance came to us as a yearling in a terrible state and was the first rescue we took in. A tiny little thing, with no understanding of what had happened before coming to Rescue Ranch UK.
He came in imaciated, flea ridden and worm infested. It took a lot of hard work to get him right. We also discovered that Chance was a rig and so getting the money together to have him gelded was a struggle. Nevertheless, we managed and Chance is now a happy and health gelding!
Chance has gone out on loan to a lovely family who we are sure are going to do amazing things with him!